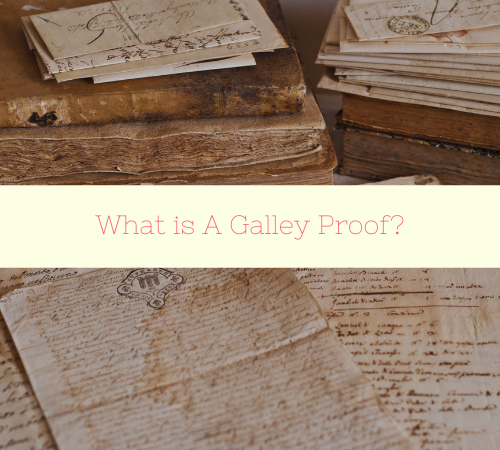 Galley proofs are pre-publication copies of publications intended for review by writers or authors, proofreaders, and editors, and often with extra-wide margins. It may be uncut and unbound, or sometimes, sent electronically. It is produced to proofread and copyediting but may also be utilized for review or book promotional reasons.
History
The word "proof" may be found dating back to about the year 1600. In order to certify the correctness of the work, the main aim of proofing is to provide a verification tool. The editor, author, and proofreaders physically mark all necessary or recommended changes on electronic or paper proofs. The typesetter, compositor, or printer receives the edited copies, rectifies and rearranges the pagination type, and coordinates the printing of the final or published copies by the press workers.
Galley proofs or galleys are so-called because in the 1650s, during the era of handset letterpress printing, the printer would put the page into "galleys," metal trays into which type was placed fastened into position. After that, a tiny proof press would be utilized to produce a small number of copies for proofreading. Thus, historically speaking, galley proofs are galleys produced on a proof press.
From the printer's perspective, the galley proof, as it evolved during the era of physical handset type, served two primary purposes: (1) ensuring that the copy was set accurately by the compositor: and (2) ensuring that the type was free of defects. It is necessary to ensure that the type is free of defects as the type of metal used is easily damaged due to its soft material.
Once a defect-free galley proof was created, the publishing company asked that further galley proofs be run off for distribution to writers and editors for final reading and text changes prior to the type being fixed in the case for printing.
What Is
an

Uncorrected Proof?

It is a proof version (digital or paper form) that has not yet received final author and publisher approval. It may appear on the book's covers as well (advanced reading copy).

Since most typesetting and pre-press work is now performed digitally and sent electronically, the phrase uncorrected proof is more prevalent than the previous term galley proof, which refers solely to a paper proofing method. If, on the other hand, a paper print-out of an uncorrected proof is produced on a desktop printer or copy machine and used as a paper proof for authorial or editorial mark-up, it approximates a galley proof. It may be mentioned as a galley.

Preliminary electronic proof versions are also referred to as digital proofs, PDF proofs, and pre-fascicle proofs. The latter refers to how the pages will appear when collected into fascicles or press signatures.
What are Final Proofs?
Final proofs are proofs produced by the printer for approval by the publisher before going to press. At this point in the manufacturing, it should have rectified errors and positioned the pages correctly to fold and cut on the press. Correcting errors at this stage incurs an additional fee per page, which is why there is a need to discourage writers from making many changes to final proofs, but last-minute adjustments by the in-house publishing team may be allowed.
Page layouts are thoroughly reviewed at the final proofing step. Additionally, since final page proofs include the final pagination if an index was not created earlier in the production process, this pagination simplifies creating an index and revising the table of contents for a book.
Traditionally, some book publishers utilized galley proofs as advanced reader copies (ARCs), advance copies, or publicity proofs before release. These are sent in advance of final publication to publications, reviewers, and libraries. These galleys are not sent out for corrections but to guarantee that freshly released books get timely evaluations. The publisher's list of recipients restricts the number of copies to what is needed, thus making advanced reader copies (ARCs) a type of print-of-demand (POD) publication.
Usually, pre-publication publicity proofs are collected and bound in paper; however, in books with four-color printed pictures, publicity proofs may be missing or include just black-and-white drawings. They may be labeled or stamped "uncorrected proof" on the cover, but the receiver is not required to proofread them, to ignore small typesetting mistakes.
Galley proofs in electronic format are seldom utilized as advance reading copies since the receiver may alter the proof and reissue it as their own. Occasionally, trustworthy colleagues are given electronic advance reading copies, particularly if the publisher wants to rapidly typeset a leaf or two of "advance recognition" notes inside the book.
Are you looking for a literary agent? Handing your book to publishers is a daunting task. However, companies like Quantum Discovery can help you with your needs when it comes to having your book delivered to the right publisher. Contact our professionals by calling (888) 755-6875 or visiting quantumdiscovery.net to know more.